Embarrassment: "I have the worst teeth ever"
"I have the worst teeth ever!" We hear this all the time from our patients. Having bad teeth is embarrassing and it often leads to fear and/or avoidance of the dentist. Neglecting bad teeth is bad for not just your self esteem, but your overall health.
WE CAN HELP!
We understand the fear and embarrassment associated with going to the dentist. We are here to help, not to lecture or judge. We are thrilled to have the opportunity to help people restore their hopes, smiles and confidence.
With IV Sedation Dentistry options, you can have dental treatment completed while you sleep. Our CEREC technology allows us to complete multiple procedures using metal-free restorations in a single visit.
YOU ARE NOT ALONE.
Here are some example cases of patients with bad and/or rotten teeth who regained their health and confidence with the Djawdan Center for Implant & Restorative Dentistry.
Tim's Smile Makeover
Tim had spent thousands of dollars and visited multiple dentists trying to improve his smile. Frustrated by failing dental work and tired of hearing his teeth were hopeless, he came to Dr. Djawdan for a consultation. We created a treatment plan to replace Tim's teeth with dental implants. Now, Tim smiles with confidence. There's no more pain and he doesn't have to worry about seemingly endless dental visits.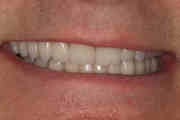 ---
Chip's Smile Transformed
Chip avoided the dentist for years. He was embarrassed by his rotten teeth and was fearful he'd get a lecture when he did visit the dentist. He found Dr. Djawdan and came in for a free consultation. We listened to his concerns and helped him develop a treatment plan that would restore his smile. With IV sedation dentistry, we completed the entire treatment plan in a single visit.
---
Mike's Bad Teeth
Mike was plagued by bad teeth. From a young age, he was in and out of the dentist with rotten teeth and tooth pain. He had unsightly metal fillings, failing bridgework and dark stains on his teeth. When Mike came in to our Annapolis dental office for his free consultation, we immediately put him at ease. Dr. Djawdan created a treatment plan that included sedation dentistry, CEREC metal free restorations and dental implants to give Mike the smile he deserved.