Ways Cone Beam Technology Allows Us to Perform More Precise Oral Exams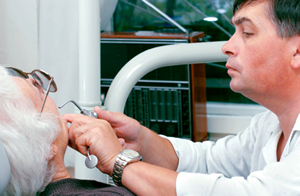 Cone beam technology enables us to perform oral maxillofacial procedures with more precision and better results. This technology breakthrough in the oral health field allows us to provide oral maxillofacial patients with more clear-cut information about their care and their prognosis.


What Is Cone Beam Technology?

The description of cone beam computed tomography (CBCT) provided by the U.S. Food and Drug Administration (FDA) gives you a better idea of how cone beam technology works. According the FDA, a CBCT is an off-shoot of a traditional computed tomography (CT) system. The CBCT system rotates around a patient by using a cone-shaped x-ray beam. By using the beam, we can record high-resolution images to produce a 3D picture. This picture features the teeth, oral maxillofacial area, or the neck, jaw, and mouth, and the ears, nose, and throat. Therefore, this type of x-ray can give us a comprehensive assessment of a patient's dentition and oral and maxillofacial health.


How a CBCT Assessment Allows Us to Provide More Accurate Results

When we use CBCT imaging for oral maxillofacial care, we have access to three-dimensional or 3D data versus the two-dimensional information offered by traditional x-rays. With this additional advantage, we can make better diagnoses and make more precise decisions when evaluating conditions of the teeth and jaw. That gives us an edge in treating oral maxillofacial patients for disorders such as TMJ or TMD, or in planning a treatment for surgical realignment of the teeth and gums. Because the CBCT machine emits a higher amount of radiation than x-ray equipment, we only use this equipment to address specific oral maxillofacial therapies.

Learn more about cone beam technology and its benefits by contacting our team of OMS professionals. We can answer your questions or set up a consultation to clarify how we use the technology.